David Ayer Started a Joke
Honestly, the more that we learn and see from David Ayer's Suicide Squad, the more we want to see it. We already covered some of the big changes and news about the Ayer Cut in a previous article. If you're unaware of what the Ayer Cut is, click this right here to learn all about it!
Now, onto the more recent news. David Ayer has been all over Twitter and social media, teasing the Ayer Cut. As fans rally across social media to try and get Warner Bros and AT&T to listen to them. Mostly, it's been a lot of confirmation from Ayer about missing elements and what we could've gotten.
🙌🏻🔥🔥🔥👊🏻 https://t.co/IdOElFaViR

— David Ayer (@DavidAyerMovies) July 21, 2020
Today however, the Director gave fans a fun little glimpse at some more cut scenes featuring Jared Leto's Joker.
As you can see in the image, Joker looks to be a lot more menacing and maniacal in this shot than any in the film. Which was meant to be the intended tone for the movie.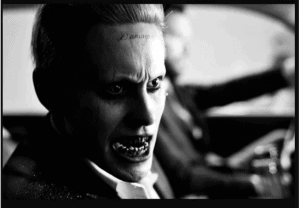 Joker was meant to be a hell of a lot scarier, abusive and tortuous. Invoking more of a 'Death in the Family' vibe as opposed to a Post Malone wannabe gangster.
That also fits in with what Ayer has said about the overall way that the movie got changed. Watching the original 'I Started a Joke' Trailer from Comic-Con and comparing it to later trailers, it's clear how much changed.
Going from dark, twisted and sad to happy, boppy and comedic in the blink of an eye. Something that Ayer has been vocally upset about after all the work that went into making the film what it originally was.
— David Ayer (@DavidAyerMovies) July 21, 2020
A Product of the Times?
Suicide Squad came out during a weird time in DC's lineup. Man of Steel and Dawn of Justice doubled down on the gritty and dark storytelling that DC is famous for. Around that same time, Guardians of the Galaxy and Deadpool were making huge waves. Blending comedy and action seamlessly together in new and inventive ways.
Only problem, is that DC couldn't knuckle down and make Suicide Squad rated R, so it couldn't compete with Deadpool. Similarly, turning a dark film into a bright and funny film never meshes, so it couldn't compete with GOTG.
Then, awkwardly enough, a few years later and they did the same thing with Justice League. Causing an uproar in the community and a schism in the fanbase. When Wonder Woman and Aquaman showed that DC can be colorful and fun, a lot of fans still wanted dark and dreary.
Eventually DC caved in and announced that the Snyder Cut of Justice League would be unveiled on HBO Max next year. So now, fans are clamoring for David Ayer to receive the same treatment. Show fans what Suicide Squad should have been.
Besides, if DC is starting to move in a different direction with films like Shazam 2, Wonder Woman 1984 and Aquaman 2, what do they have to lose? Although, there are rumors that Black Adam and James Gunn's The Suicide Squad are going to be a bit darker.
All we know, is that we support the trending hashtag.
#ReleaseTheAyerCut
For more movie and DC news, stay tuned right here at Geekhash!