I Just Want the Pharah Skin
Fans of the team based shooter Overwatch have plenty of new content to go and chase after this week. Starting today on August 4th, Blizzard has brought back the week long event, Summer Games. The event that brings a host of new content including skins, voice lines, modes and exclusives.
Starting with the modes, there's really only one that comes along as a Summer Games exclusive. And that mode is, of course, Lucioball. Everyone gets to be Lucio in a makeshift soccer game mode. It's fast, frantic, fun and full of memorable moments with friends. Even though I really hate playing as Lucio, I will admit that Lucioball is a good time.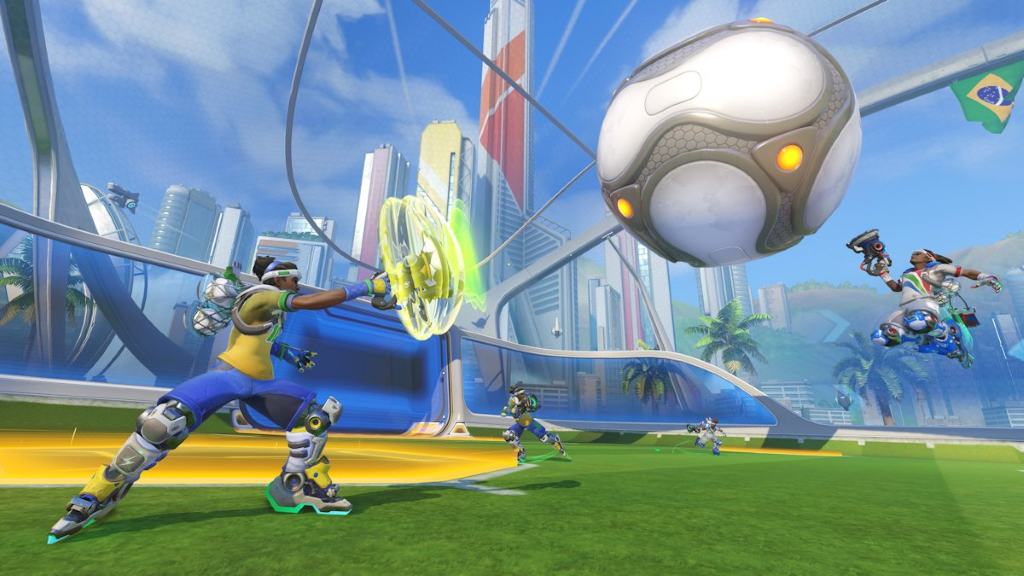 But what about them Skins? You've no doubt seen that Pharah skin making its way around the internet, and yes it is real. And yes, I desperately want it, mostly because I'm a Pharah main when it comes to DPS but that's beside the point.
---
Orisa got turned into… An ice cream sundae?
---
Other characters are getting exclusive skins as well. Including new skins for characters such as; Baptise, Wrecking Ball and Echo. All of them have the same lifeguard or beach style motif, which is just the aesthetic for Summer Games overall.
Additionally, some of the best skins are also available for old characters. Bastion has a sweet sandcastle skin, Doomfist is rocking a Karate Ghi, Orisa got turned into… An ice cream sundae? All right, so some of them are kinda wack, but they're still really fun to collect and rock!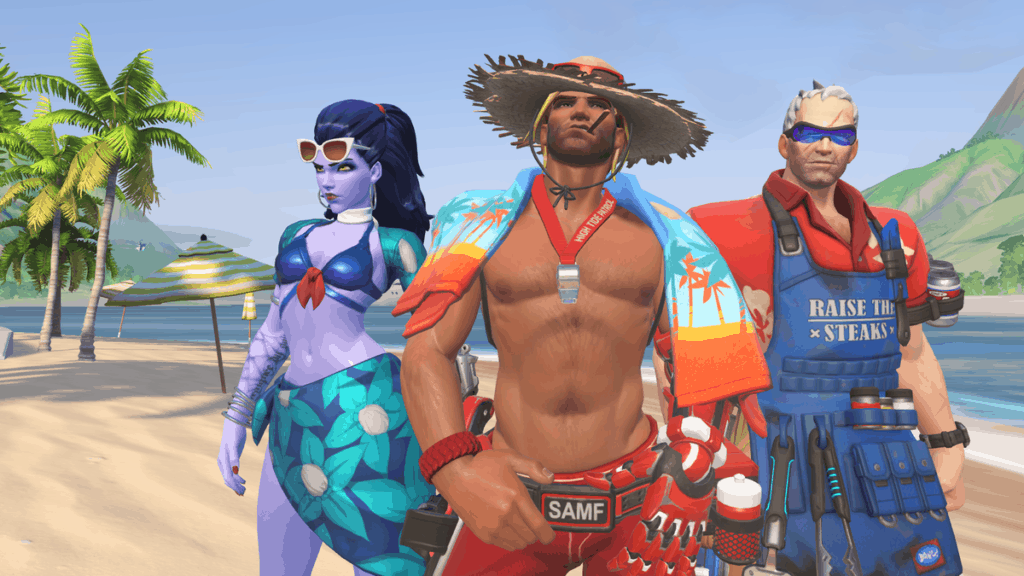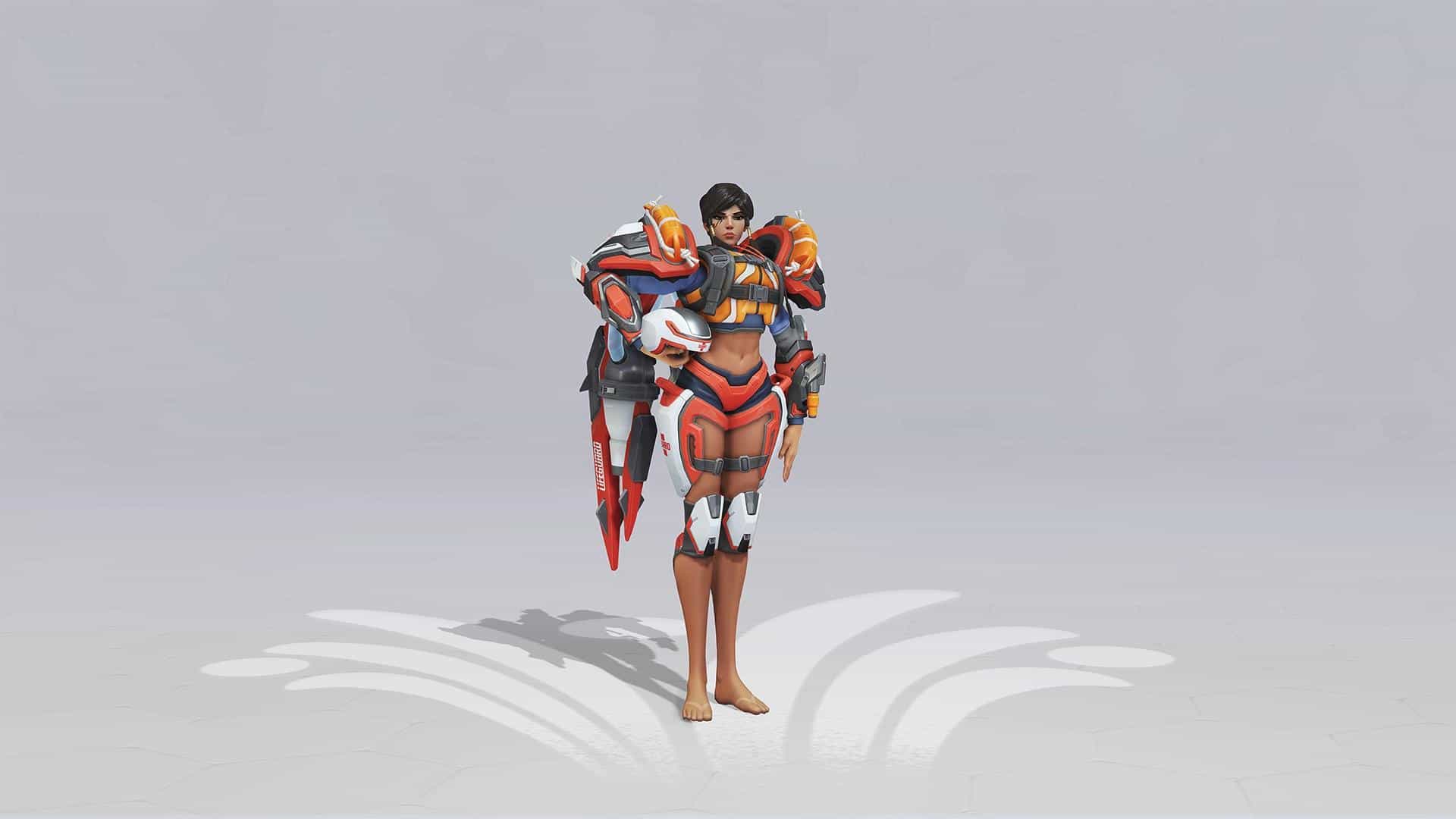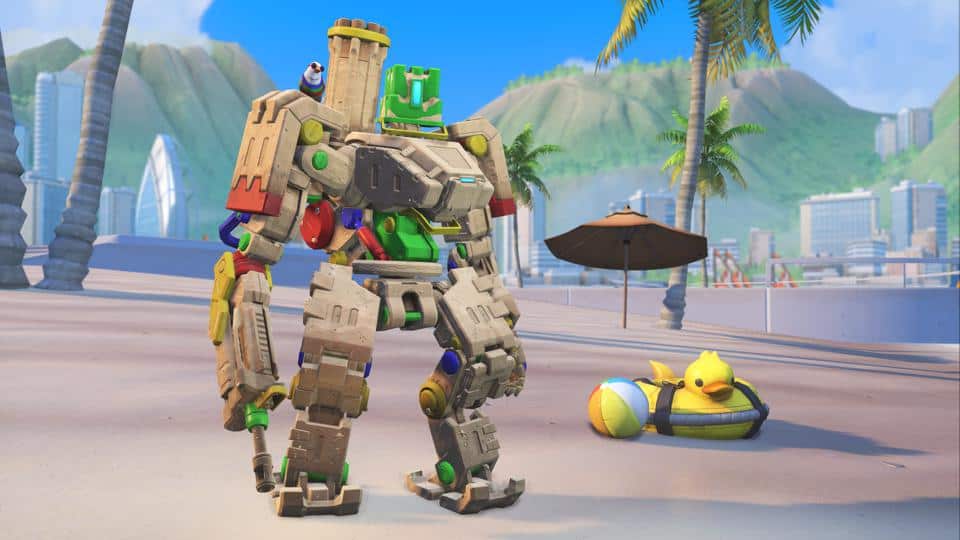 Brigette gets a rock solid lifeguard uniform, and some classics for Reaper and Widow made a comeback!
This is also a gamer's opportunity to snag some Summer Games skins that they didn't get last year as well. If you missed out on the great skins for characters like McCree, now is your chance to snag them.
---
TRACER HERE
---
Tracer also brought with her a brand new 9-win challenge for Gamers to chase. Win 9 games in Quickplay, Competitive or Arcade. After you achieve that, you'll receive an exclusive spray, icon and skin for Tracer. Won't lie, I was a little let down by the new Tracer skin but hey, it is an exclusive so might as well rock it. Then again, I hate Tracer in general so it's not like I'm really unbiased in this opinion.
Skins are one thing, but there is so much more to chase after this week as well. Some voice lines, icons and sprays are exclusively available for Summer Games in Overwatch. Everytime you rank up, achieve milestones or complete daily challenges, you receive a Summer Games loot box. So if you grind it out and get those levels up, you can get a ton of stuff very quickly.
Not just the skins are some of the best in Overwatch, but almost everything in Summer Games is the best collectibles for the game. We love the voice lines, the sprays and the wacky outfits that come along with this event. It's such an endless amount of fun and the rewards are just so enjoyable to chase after.
---
the changes to Moira are good and not game breaking
---
Saying nothing of the potential upcoming changes to characters like Moira, that are making people all sorts of upset. Or, the confirmed nerf to Genji that's going to drastically drop his viability inside of matches. We aren't going to go too deep into that topic here, because that's a salt pool of opinions that we don't need to breed.
Briefly though, here is our short take on those two changes coming to the meta: Firstly, the changes to Moira are good and not game breaking. The ability to phase teammates for half a second doesn't break anything, and only saves teammates from certain ults. 
Sure, if you're quick enough you can save teammates from something like High Noon. More often than not, you're going to be saving them from things like Sigma's Flux. It's not overpowered and it's no big deal. Her damage orb changes on the other hand, might be a little more controversial when/if they go live. Because if you time it right, you can insta kill most DPS characters. Which means I can finally exact my revenge on all those Sombras and Tracers. 
Seriously, I hate Tracer so much
Genji's nerf is something that seems to be going over a little better. Because his recent buff made him a freaking menace to go against inside of literally everything. His deflect, shuriken speed and cool downs were so rampant that anyone who was decent at him became a god. 
Granted, the best defense against Genji is characters with beam weapons, but it also limits your choices so much. He was so strong and so viable that you just didn't even want to risk using anything that can be deflected at any time.
In our opinion, Genji literally became just as bad as Bastion. Yes, we went there, do something about it!
Catch you guys in the Summer Games! Look out for us in Open Queue, Arcade and Quickplay! 
For more details, updates and news on Overwatch, stay tuned here at Geekhash!