We Have a Theory…
The much anticipated adaptation of the classic Sci Fi novel, Dune finally got some more good news this month from one of the stars. Denis Villeneuve is directing the SciFi epic, and has generated a lot of hype for the film with his image teases and filmography.
Villeneuve is mostly known for his work on films like Sicario and Blade Runner 2049. Both excellent films that showed off his fantastic attention to detail, character rich storytelling and visuals that have cemented his name in cinematic history. Which is saying nothing of the often underappreciated film, Arrival.
Timothee Chalamet, the lead actor for the film, has also been very outspoken about his excitement for fans to see the film. He's also been very active on social media, praising Villenueve and his costars, promising that Dune will be something magical.
Earlier today, a fan of Chalamet posted a Tweet begging for news on when we can expect to see footage for the film. And Chalamet responded with a tease that we're going to be getting the trailer very soon in August.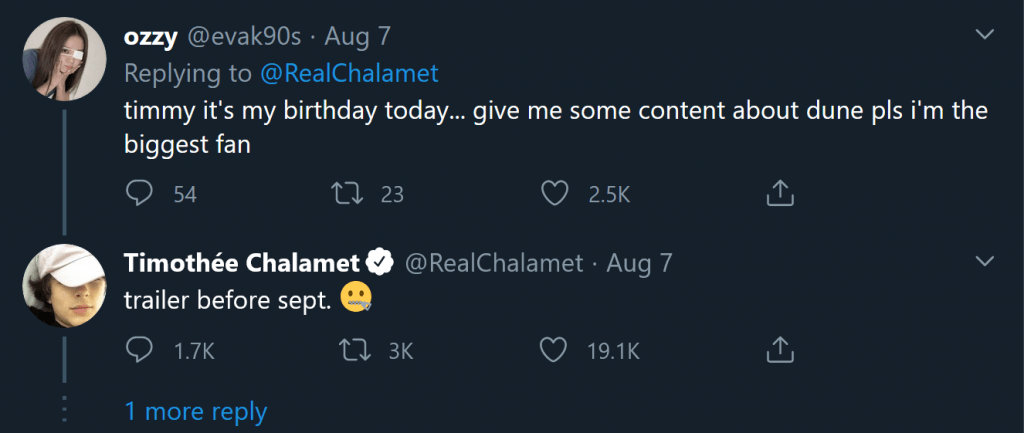 He Wasn't the Only One
Luckily, we don't have just his word on the trailer being very close. Costar and lead actress of Dune, Zendaya, also shared some details about the upcoming film. Praising the art of the film and the spectacular experience working with Denis Villeneuve.
"Dune was incredible. I wasn't in it very much, so when I was watching the trailer, I was like, 'Oh my gosh!' I called Timothée and said, 'Dude! You should be proud.' It is a big deal to even be a small part of something with such a massive cast. And I love sci-fi stuff too. It's fun to escape into another world."
Some people are even going so far as to call Dune a game changer in SciFi pop culture. Claiming that even by the art of the film alone, it has potential to be the next Lord of the Rings. Ushering in a new generation of SciFi and next level filmmaking.
---
Warner Bros, You Say? Hmmm
---
Care to wage a guess who's making the film? Spoiler, it's Warner Bros, and they have an upcoming live event called DC FanDome where they're unveiling a lot of their upcoming projects.
If we were to put our money down, we'd put our bet on Dune making a DC FanDome appearance. Sure, we might be expecting more like stuff on Black Adam and Wonder Woman 1984. Considering however, that we're also getting teasers for Rocksteady's Suicide Squad and other entities, it would make sense.
Additionally, like half of the Dune cast are also DC superhero actors. Dave Bautista, Jason Momoa and the others are all MCU actors. So we feel like it would make sense to have Dune make it's grand trailer debut at DC FanDome.
We know that we'd love to see it get announced here. As excited as we are for Suicide Squad, Black Adam, Green Lantern and Snyder Cut, we're equally as excited for Dune. A trailer at DC FanDome would definitely not go amiss.
For more news, updates and info on Dune, stay tuned here at Geekhash!