Season of the Arrivals is doing everything that players like myself (and many others) have come to expect/hope for from Bungie! Assuaging many concerns that Season of the Worthy was Bungie officially giving up on the game. Seems that is not the case, as Season of the Arrivals adds plenty to chase and uncover!
Worth noting that right now, we are building up to a pretty exciting event. Something that was leaked/discovered over on r/RaidSecrets earlier yesterday, things are gonna pop off soon in Destiny.
Gear… So Much… Gear!
Loot is the driving force of Destiny 2, and Arrivals has added plenty of things for Guardians to go chase down!
Starting with the basics, we got a new set of weapons and armor from Drifter/Eris. Holdfast armor looks pretty wicked! Reminds me of a cooler version of the Gambit Prime sets, which is very good in my opinion. I have not unlocked the ornaments yet (and you already have, take a break) but I hope they maintain the same look.
The Holdfast weapons (or Umbral Weapons) are freaking gnarly looking. The Bow in particular, Whispering Slab, looks like someone strapped two massive cleavers together. And the upcoming Exotic Effigy looks like a slab of marble. I don't know quite how to articulate why I love the way these look.
There's something so brilliantly chaotic about the gothic/H.R. Giger look of the weapons. Like some SciFi primordial entity that designs death incarnate.
Mix in the returning gear from Trials of the Nine (thank you Jesus) new Daito armor from Prophecy Dungeon and upcoming events. There's a lot to chase and collect.
Mysterious Signals and Mixed Messages
Story wise, it took Arrivals all of about 20 minutes of gameplay to make a bigger impression that Worthy did. Setting up something big with Eris communicating with the Pyramids, Zavala asking us to spy on Eris and the Drifter getting his due.
We're seeing our first glimpse of our guardian taking steps toward the dark, leaving the Vanguard behind and embracing our own path. Which is already more interesting than anything that was set up in Worthy. Most interesting part of the new setup is that of the Drifter.
I have not done the Prophecy Dungeon yet so I'm not sure if Drifter's questions and promises have led to anything. Even if the Dungeon didn't, the Drifter giving us weapons and armor craft from Umbral Darkness is a big move. We already knew that he was shifty and suspicious, but we're finally seeing his play being made.
However, our favorite tease so far has got to be the potential destruction of 4 planets in Sol. A cheeky Redditor discovered items for an upcoming quest in Season of the Arrivals, simply titled 'Evacuation Codes'. There was one for Mercury, Io, Mars and Titan, and it was corroborated when someone found an image of D2's Universe map in Season 12. Guess what was missing? Yup, Io, Titan, Mercury and Mars.
Evacuation Orders have been found for IO, Titan, Mars and Mercury! from r/raidsecrets
Now to be clear, we're not saying that the planets themselves will be totally destroyed. As we outlined in the reveal event, Bungie is introducing a new software feature that allows them to store locations.
So we may just see these 4 locations being set in a revolving content cycle after the Pyramid ships render them uninhabitable.
Nonetheless, this is gonna be a crazy season for consequences and fallout.
We Cannot Wait to See How This Ends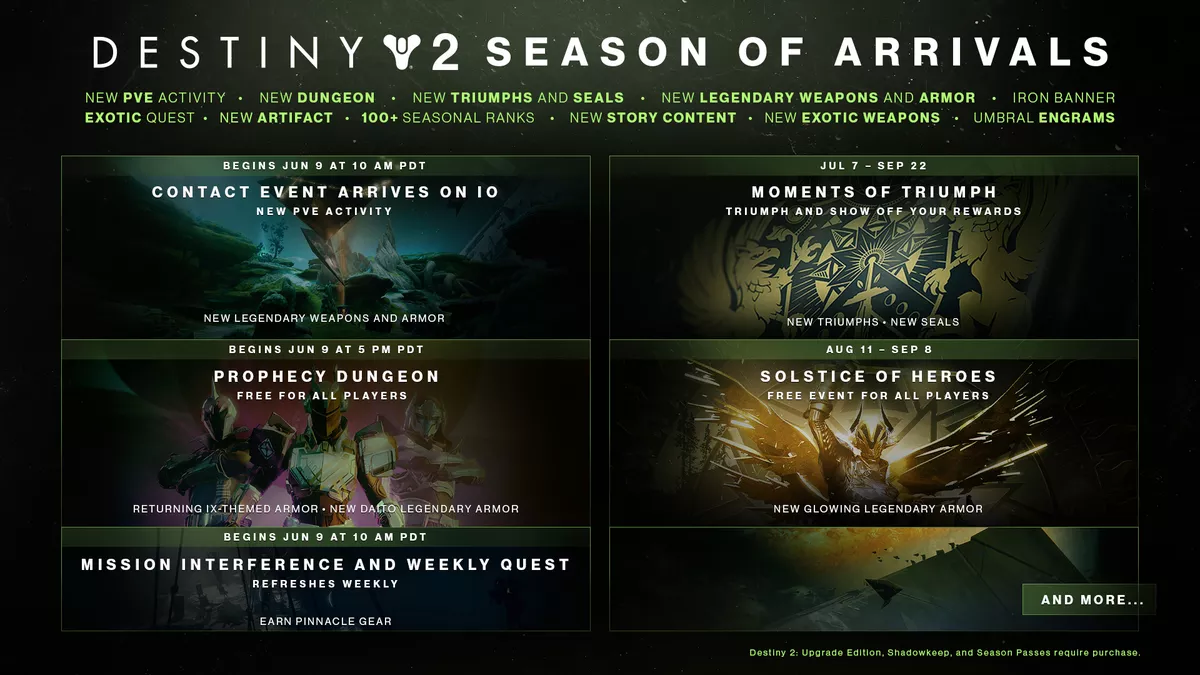 Arrivals has already set up more mystery, intrigue and potential story payoff than the last 3 seasons combined. Not only has it done that, but it has given the community new secrets to chase done.
Two Exotics that have not been revealed (but they have been datamined). Savathun's Eyes being all over the four soon-to-go-bye-bye planets that are immune to damage. Evacuation of older locations being discovered by Redditors. Eris and the Drifter pulling us further down the rabbit hole of The Darkness and wielding greater power. Zavala made a very selfish decision by asking us to spy on Eris.
Honestly, the only downside so far is that the only immediate new content in Arrivals is a Dungeon and a Public Event. There are new story missions every week for a little while, but you have to wait a week, obviously.
As I said, I have not yet played the Dungeon. Pyramid Scale Public Event is definitely much more engaging than the Seraph Towers. Although it is also just mini-Gambit with no invaders and a lot more enemies.
While we wait for more content and more secrets to uncover, we're more excited now than we have been since The Dreaming City. Bring on the Darkness, let's get real!
For more news, updates and gameplay for Destiny 2, stay locked here at Geekhash!